Hydraulic Vane Pumps
Hydraulic vane pumps are a type of hydraulic pump that is widely used in industrial settings. Hydraulic vane pumps are favoured for their low noise levels and low flow pulsations, setting them apart from other types of hydraulic pumps.
Vane pumps utilise rotors to operate like certain motors and are available in a range of styles, with varying levels of displacements, flow rates and press...
Showing 1-1 of 1 products
Relevance
Price (high-low)
Price (low-high)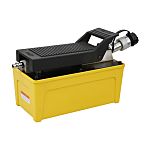 RS Stock No.: 234-9581
Brand: RS PRO
Available in multiples of 1