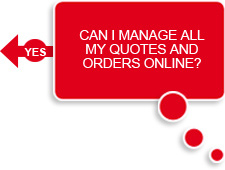 Quotes Online
What is it?
A free online tool where you can submit, manage and redeem quotes
You can also view and redeem quotes submitted by your colleagues
You simply upload your bill of materials and match it against our complete product range.
How does it help me?
By increasing your efficiency, it will free up your time for more urgent tasks. And
by helping you cut order costs it will give real cost savings to your business and increase your personal confidence in your budgeting skills.
Accurate information: you know exactly which stock is available at what prices, checked against your bill of materials
Saves money: it quotes you the latest prices, and holds your quote for 30 days, so you're protected against price rises
Saves you time: thanks to quick, easy access to all your quotes without leaving your desk
Cuts staff costs: because you can manage your own and your colleagues' quotes together
Less hassle: you can manage all your quotes together, in a format and with referencing that suits you.
How do I sign up?
Register now with your RS account details
If you already place RS orders online, just log in to My Account and click on 'My Quotes'
If you don't currently place your RS orders online, register here and start today
Don't have an RS credit account yet? Apply now.
Already registered?