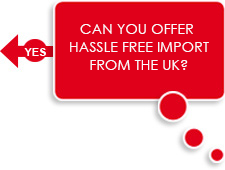 Import
Hassle free import from the UK
With the help of our experienced IME team you can order RS products and have them delivered to your place. Import gives you:
Specialist import and hazardous packaging & labeling to full International Air Transport Association (IATA) standards, ensuring safe and legal transportation of your orders
Full export documentation together with Customer Commodity Code Numbers, (CCCN numbers)
You also get
Weights and dimensions for your order
Country of origin information if required
We have partnerships with worldwide freight forwarders and global couriers which ensure an efficient, low-cost freight service.
Our delivery service is typically 7-10 days to the UAE. IME provides mainland customers with an experienced, reliable team to give you hassle free, cost effective service.
For assistance contact our team: